Event Security Service In Michigan. A Necessity for Public Events.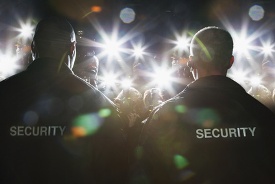 Metro Detroit area event planners know security is a major issue at nearly every public event, and that's why many rely on Lakeside Investigations and Security to manage event safety and crowd control.
Having maximum security is crucial to providing safety for patrons at concerts, festivals, sporting events, church gatherings, and more.
Crowd Control and Public Safety
Any venue with spectators and participants has a potential need to protect their patrons from unruly individuals. But an event security service does more than handle a single situation created by a single person.
Event security staff will create basic, organized methods of crowd control in the event of a crisis such as fire or other disaster, but also for a routine exit at the end of the event. Event security professionals possess extensive experience in securing large public spaces and in event management.
What You Can Expect When You Hire Event Security Management Team
Less overhead. Don't hire an event security team. Trust our trained professionals to work for you on a contract basis.
Polite event management. Security guards are often asked by patrons for directions, advice, and other information. While our expertise is in security, we interact with your patrons with a smile on our face…unless it's an emergency situation.
A partner in planning. Before completing plans for a major public event, it's best to rely on the services of event security planners to assist with security needs as well as planning for safe entrance and exit to public locations.
Event Planners Use Lakeside Investigations and Security For Event Security in Michigan - Experts in Event Security.
Lakeside Investigations and Security can handle any size event that you have planned in the Metro Detroit area. Contact us to learn more.